Omni shopping platform for local partnerships
"Awsome! where did you get this?"
While traveling, we often stay in beautiful guest houses or AirBnBs, whose owners have good taste and have selected interesting products with which to decorate their homes. We may find the scent of a shower gel stunning or find a pillow so comfortable it makes us want the same one. To extend this discovery stage of shopping, we have suggested a new concept, the Omnichannel shopping platform, which connects small businesses/product producers and consumers.
A proposal began with Small Business Owners.
Registered number of small business people (2016) by. National Statistical Office
From jam made from local produce to local potters and small startups, small businesses may find it difficult to create offline channels due to space, cost, and time problems. The lack of offline channels may have even more of a negative impact for products that people must try and experience to desire, such as food, scented candles, and so on.
In addition, everybody knows the importance of reliable reviews.


Reliable reviews affect purchase rates. Although sellers may open stands at local festivals and shop in on/offline stores to raise awareness, they cannot expect high sales until they have accumulated good reviews. They must engage in a bitter struggle to obtain a certain amount of reliable reviews, so their potential customers can purchase their products willingly.
- 5+ small business owners interview
---
Customers also matter.
People do not want to be unsuccessful when shopping, so they want a guarantee regarding the quality of a product before they purchase it, which creates a reliance on reliable reviews. If the product has no reviews, then customers may decide not to buy it, because they doubt its quality.
86.9 %
Agree the need of consumer review
78.6 %
Always check reviews when make purchase
70.2 %
Prefer to buy products have many reviews
- Survey of 1,200 men and women aged 19 to 49 by. Embrain Trend Monitor
Those who experience products offline, such as at sales stands and local events, showed relatively low reliance on reviews. However, few of those who said they would come back later to buy a product actually did, even though they had decided to buy it at that moment. People stated that they did not come back, because they forgot where that sales stand was and were too lazy to find it again, just bothered , or had forgotten to purchase it altogether.


- 10+ customers aged 20 to 39 interview
---
Low involvement products sales:
Once after leaving sales stands, customers may not bother to go back and buy a product. However, at the same time, this is why people can try it and buy it more easily.
Customers only require a minimum level of reliability in reviews when making a purchasing decision:
If a product is in an individual's taste range, then he/she can be persuaded to buy just by seeing a short positive review of someone who has experienced it.
---
Reframing Problem
How can we
let the seller give people chances to 'feel' that they have experienced enough, without incurring the high cost?

make 'experiencer' easy to share their experience? (quick and positive review)

make seamless the stage between experience and purchase?
(prevent physical/mental distraction, etc.)
---
Service Definition



Homie is an O2O shopping platform that helps local small business owners and producers form new numerous offline channels through partnerships with local accommodation facilities.
---
Small-business People
Easy to make multiple offline channels and more reviews

Enhance the brand's recognition
Accommodation Owner
Contribute to promoting one's favorite local products
Create a unique mood of accom. with unique products
Accommodation Guest (Experiencer)
Easy to discover and experience a good quality of local produce

Easy to buy selected local product

Easy to review and get extra points that can use at the Homie online store
General Shopper of an online mall
Easy to decide on purchasing local goods by watching many reliable reviews
Easy to surf the variety of local foods and goods at the one place (Homie online store
Main Scenario - Accomodation Guest (Experiencer)
---
---
---
Homie
Online shopping store build and operate
Accommodation Owner
Select goods from partners
Write reasons for selected on the 'Story' section in the app.
Small-business People
Manage one's pages on Online store

Delivery processing
Accomodation Guest (Experiencer)
Check-in/out, Enjoy selected goods
Interaction with homeowner/manager via an app.
General shopper of an online store
---
Design Process

Focused on the main scinario - Accomodation Guests (Experiencers)
After discussing reframing problems, I set the main purpose of this application: to allow users to quickly and easily rate their impression regarding product experience. While this application is a kind of shopping platform, its priority is not to appeal products and increase the sales of those products.

I organized the main scenario into action-oriented text and rough drawings, including listing the functions or pages that were required for performing each scene. After grouping the functions and pages and building a basic service structure, I determined whether the structure was capable of performing the main scenario.


For each step, a draft page was drawn that corresponded to the draft structure. In the case of Homie, I was able to draw the pages quickly because I am familiar with mobile shopping platforms' layouts due to my case study experience with an online shopping mall.
I went back to the keywords, and reviewed the pages that I had drawn to ensure that they were suitable for my original purpose of quickly and easily writing a review. These first drafts were problematic for that purpose. Rather than encouraging quick reviews, it came across like a general shopping mall, which appeals to users by showing appealing product images and encouraging people to identify new products quickly.

Questions were asked regarding interpreting the goal as follows:
- What does it mean to write a review quickly and easily?
- What do quickly and easily mean?
- What conditions are needed to achieve something quickly and easily?
Detailed rules were built to achieving the goal effectively.
Following by the rule, developed the pages' designs and set interaction.
For instance, the rules can include:
- Informing users immediately about which products they have not reviewed
- Counting and showing the number of products that have not been reviewed
- Giving them a sense of achievement by giving compensation


- Reducing the depth for rating product impressions as much as possible.




I ensured that there was neither overlapping information within the same screen nor gesture conflicts.
When designing a service, I care about the users' feelings.
Thus, I focus on users' actions when drawing the scenario as well as consider how they will feel about the services at each stage. This is followed by constantly checking the design direction based on the keywords of the service's goal. I try to ensure that they experience the feelings that I intend with the design.
Independant project 2016
(Updated 2019)
A mobile payment system for teenagers in Cashless society
Although this system has been designed to enhance teenagers' financial understanding and support them in maintaining a healthy financial life, the ultimate goal is to address the difficulties faced by teens from low income brackets in using government subsidies for meals.
A cashless society is coming
The number of users of the simple payment service
- Korean Financial Supervisory Service (2018)
Sweden is entering a cashless society under government leadership. In 2016, the Bank of Korea launched the Coinless Working Group, and the government and private companies joined hands to create a coinless society. Many people in Korea can go out without a wallet, only carrying their smartphone, on which a simple system allows them to make payments. As of 2019, 60% of Starbucks stores nationwide in Korea are cashless.

There are 50 types of simple payment services provided by financial institutions, and the number of simple payment service users in the last year was 170 million. This means that on average, each person uses three simple payment services.
Simple payment usage rate by age of respondents - Market Analysis firm DMC Media (2019)
---
Today, people in Korea can deal with their financial assets efficiently. However,
The avg. financial understanding of Koreans in their 20s is below the OECD standard.
National Financial Understanding Survey
- Financial Supervisory Service (2018)
---
This is similar for those in their

teenage years

. Moreover, the

lower one's income, the lower their financial understanding

.
*Simple payment refers to a method of pre-registering payment information such as a credit card in an electronic device such as a mobile app and paying only with biometric authentication or a password.
Background 02
The government's way of supporting food subsidies for young people has been problematic
The existing system requires the use of a special payment card, called a Purmi Card or Dream Tree Card, depending on the local governments of each city and province. When teenagers use their card at a store, a government subsidy covers the cost of their purchases. The daily limit is 15,000 won ($13), depending on the conditions for each youth.
The cost of a meal is about 5,000 won ($4.24), so it has been argued that the price did not reflect market prices. This is not the only thing that makes life difficult for hungry young people.
In the process of using cards,

young people feel shame

. Though it is not shameful to receive food subsidies, the social view of vulnerable people is negative. Young people may fear being branded poor, especially by their peers.

In one case, a local government official made 31 meal subsidy cards for young people with 150 million won ($127K) in illegally obtained funds. As in this case,

food subsidy cards may be misused

in a number of ways. Cards are supposed to be used only by cardholders, but there is no means to confirm a cardholder's identity. This means it is difficult to know whether someone is using a stolen card.

TIn addition, food subsidy cards can only be used at participating stores. This is because they require a special payment terminal that recognizes their IC chip. Most major brand convenience stores already have such payment systems, but most restaurants do not. Local restaurants who decided to join the project later withdrew due to high

installation costs

and the low number of card users. In Seoul, about 80% of participating stores were convenience stores, and only 20% were restaurants, forcing many teenagers to eat convenience store products. This situation may contribute to

nutrition imbalance in young people

.
---
01
No child wants to eat alone
Being part of a group is important to children. It plays an important role in recognizing their presence beyond the home and in society and fosters their self-esteem as members of society. Peer groups affect young people's socialization. Thus, adults teach children to associate with various friends.

However,
the existing food subsidy system

makes hungry children reluctant to eat with their friends

outside of school. As soon as they enter a restaurant, they must ask if they can use a subsidy card, which may be a painful and embarrassing experience.
25 %

(71 out of 283)
do not want to
eat alone
23.3 %

(66 out of 283)
The lack of
available restaurants
Why did not you use the subsidy?
Surveys of 283 children in one area in Busan using less than 20% of the food subsidy - by. Busan City Council
---
" What if others want to go to a restaurant where I can't use my card? "
---
02
Issues between Youth and Parents over Pocket Money

In teen communities, young people often do the following:
Compare their allowance with their friends' allowance


Ask if their allowance is appropriate


Share ideas on how to reduce waste their money


Produce a constant stream of writing related to their pocket money
There are many stories between parents regarding the following:
Sharing opinions about the size of their children's allowance

Sharing concerns and advice about how to educate their children to manage their allowance.
---
" I don't know if my boy is starving. He doesn't tell me where he's spending his money... "
---
If a cashless society arrives in the near future, then how could children's pocket money change? I would like to suggest a service that will enable parents to support teenagers in a cashless society in a healthy way.

---
Framing Service Concept and Rules
Create payment tools for teenagers (13–18) in a cashless society, including government subsidy payment and a management process within the payment system :
Make sure the subsidized and unsubsidized youth go through the same payment process


Facilitate a government agencies tracking system for the use or misuse of subsidies


Allow parents to track the allowances paid to their child


Provide a method to prevent teens from feeling unilaterally monitored
...and Draft Ideas
What if, like a blockchain, you know a specific wallet address that allows you to access and track the history of money?

Should I know who is looking at my wallet?

Money to/ from...

Officer in charge of youth

Third party / Institution

Parents

Friends...

Privacy issue? <-What if we could widen and narrow the scope?
by a consensus process between stakeholders

... and so on...
---
Insight
01
Both parents and teens think pocket money is "mine"

First, I defined stakeholders of teens' pocket money. Then, I conducted online and offline research, interviewing and observing each stakeholder.
Young people want to make their own decisions about how they spend their money. On the other hand, parents want to know whether they manage their money well and spend it on proper things. Parents give their children pocket money and share their thoughts about spending it to foster good financial understanding, but kids may perceive this
as interference

. If a shortage of allowance is repeated, then parents begin to

worry about whether they are spoiling their children

, who may start to complain, thinking the amount they receive as pocket money is too low.
02
Characteristics of teens' pocket money consumption

The radius of consumption is not wide

Limited budget ︎ Very sensitive to money transactions

Annoyance < Saving Money

Share discount information, collect points and coupons,used goods trade, exchanging culture vouchers or gift cards, social commerce, and reselling tickets

Prefer cheap internet shopping even if they can't pay efficiently


Want to manage well


They know if their consumption habits are good or not


When in the middle of purchasing, they hard to realize the influence of expenditure

To raise money with purpose


birthday gifts, hobbies, concerts, etc.

Some of consumption requires parental permission/ help
Various efforts for well-managing money

Once the change (or compensation) is clearly visible, they respond immediately


Although their efforts, they suffer from a money crisis: they end up giving up money management.
---
Refine the challenge
How might we...

Alleviate parental anxiety about pocket money without making friction with their teens?
How can we make teens feel interactions with parents as a compliment and reward point, not an interference?
Lower children's out-of-service rate?


What are the appropriate rewards and immediate feedback?

Make children feel that they are taking initiative and systematically managing their allowance?
---
---
---
What I learned


When creating public services, especially those that are essential, a broad and sensitive approach should be applied. This is because such services may not be based on personal preference but because people have to use them and lack alternative options.

Thus, beyond the relationship between the service and the user, the social situation of the user, that is, the overall situation in which the service is placed (i.e., the environment–service interaction) must be fully considered, particularly when the target user is a deprived member of society.
Naver, Intern project 2015

︎
Co-creation (60%/100%)
Some detailed structures and data have been intentionally omitted.
︎
As a UX designer:
I worked with GUI and IxD Design interns.
︎
I did:
Project manage, Research lead, Create Information Architecture and Wire-Frame, Video/GUI Assist
---
What does messenger mean to teenagers?
I conducted in-depth interviews, usage behavior observation, and participation observation through messenger infiltration and sumerized the results in a table.

The existing service analysis was also conducted simultaneously.
---
Concept keywords
---
Catchphrase
---
---
---
Demo Video

*Password: 3136



A Location Based Travel Scheduler
TripAdvisor, blogs, and other portals constantly generate massive amounts of travel data. Therefore, people use these portals to search for local information during their travels. I propose a location-based mobile travel scheduler that uses this rich travel data. A location-based scheduler, rather than the existing time-based scheduler, will be more convenient for independent travelers at home and abroad.


- Steady increase in Travelers Korea National Tourism Organization as of March 2015
The number of outbound travelers increased by 23.1% from 2014 to 2015 to 1,416,683, and this number is expected to continue to rise due to the strengthening won (₩) and the increased supply of air seats. The number of inbound travelers also rose 9.4% from 2014 to 2015 to 1,238,144. In particular, tourists from China, Hong Kong, Taiwan, and Vietnam are steadily rising. More tourists are expected to visit Korea in the future due to shopping, plastic surgery, medical tourism, and the influence of "the Korean wave."

---
Existing services
---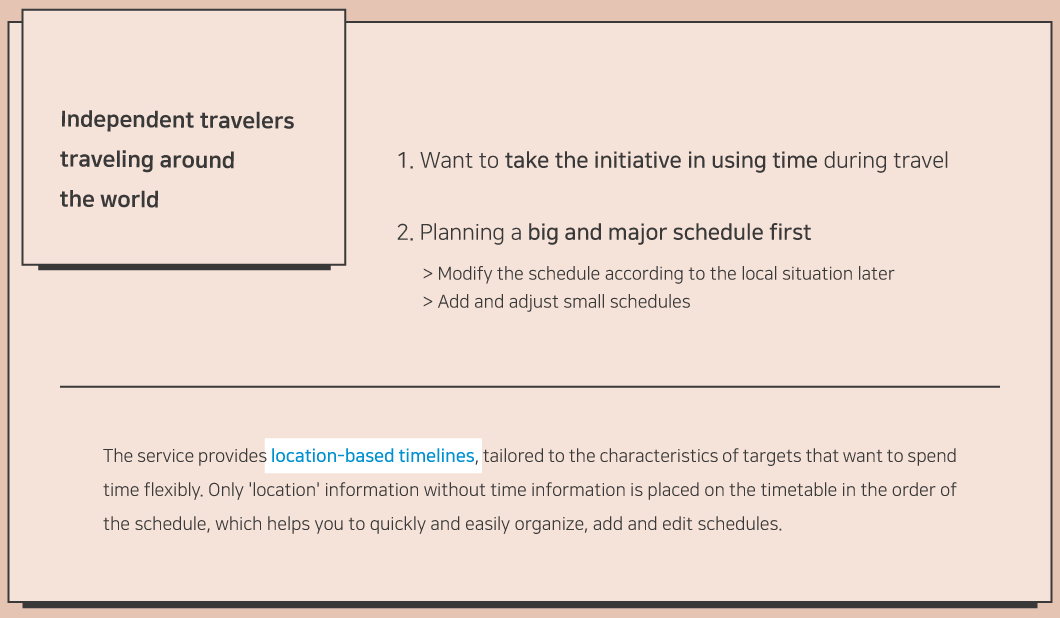 ---
Service: Basic components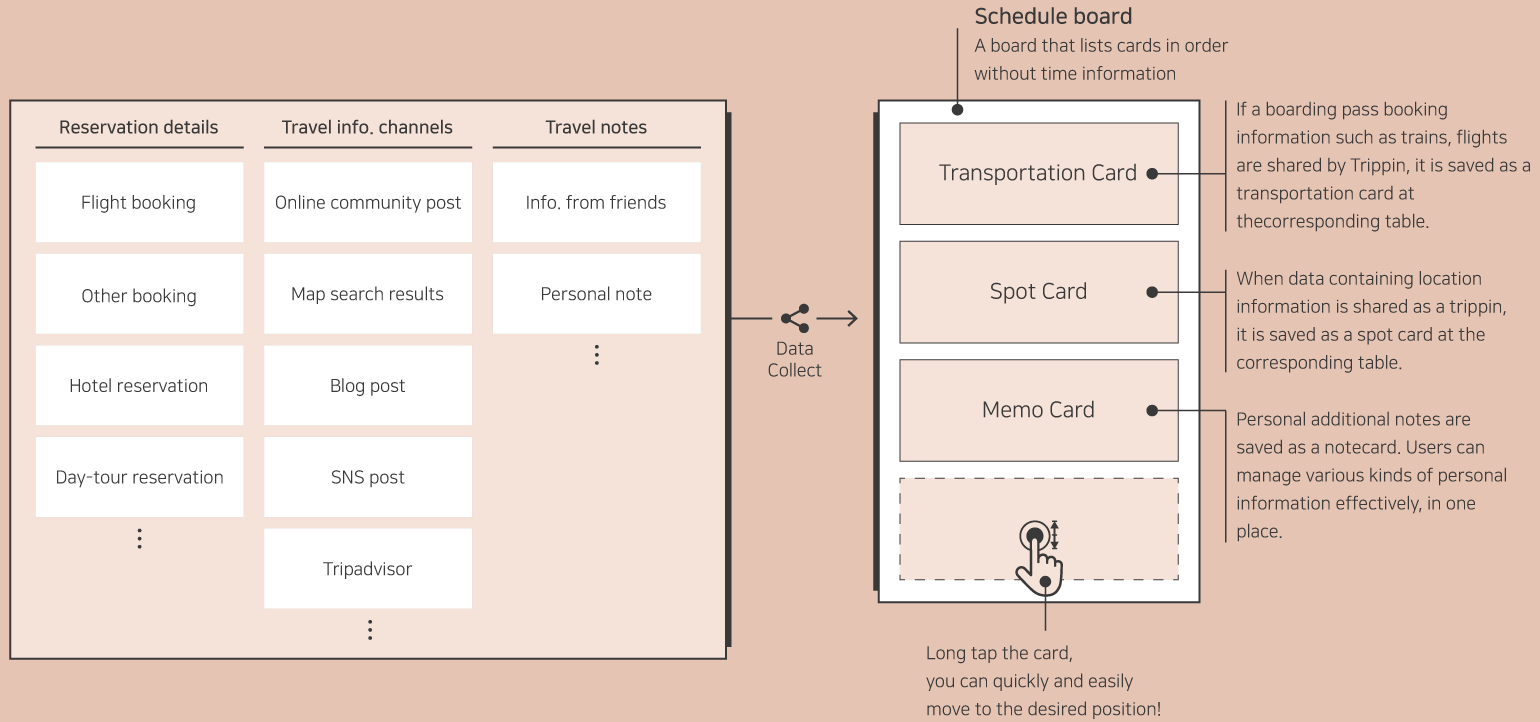 ---
With Trippin,
prepare for your trip very easily, quickly and effectively!

Search interesting places to visit and collect place cards from time to time!




---
Benefits



Preparing for a trip is not easy.


Modern people have hectic lives that often include working overtime.
With Trippin, you are able to search for interesting cities and collect cards of places you want to see while you are on the subway, on the go, before you go to bed, or as you lie in bed.

Write down your friends' recommendations about menus and note products you want to purchase during your travels on your shopping list.
And keep all of this information in one place as you prepare for a perfect trip. With Trippin, you can plan your own trip easily, quickly, and carefully using a few tabs.



Trippin


will introduce various tourist attractions and restaurants at home and abroad.
It will be provided to Korean users, as well as Koreans who are overseas and foreign tourists in Korea. Trippin will also help save hidden local businesses and facilitate commercial districts in relatively remote areas.